Custom Outdoor / Indoor Vinyl & Fabric Banners
Vinyl Banners
Vinyl Banners are very versatile and can be used for almost any application. Great for Special Events, Trade Shows, Business and Sales Promotions, and much more.
Custom Fabric Banners
If you're looking for something more eloquent and lightweight, fabric banners are your choice.
Material
For our vinyl banners we use 13oz. Tuff Weave material.

For our fabric banners you can choose from knitted polyester, nylon, poly poplin, and poly satin.
Vinyl Banner Finishes
Although we can finish banners to accommodate any need our customers might have, most of our banners are finished by sewing a hem and placing grommets every 24" around the banner. Many of our competitors will finish their banners by using tape or welding; this method is inferior to sewing.
Fabric Banner Finishes
Fabric Banners use the same finishes as vinyl banners, but there are a few more choices for fabric banners such as pole sleeve to accommodate a crossbar pole. Fringing and sewing on a backing on the banners are very popular also.
Artwork
If you have logos or graphics that you want to be imprinted on your banner, we need "Vector manipulative" art work designed in Adobe Illustrator. We can sometimes use very high resolution jpegs or tiffs, but we cannot use low resolution or small graphic files.
Submitting Artwork
You can send your art to us via email by CLICKING HERE.
Imprint Colors
We can imprint any Pantone/PMS color, but you must either submit instruction of the Pantone/PMS colors or have the Pantone/PMS colors embedded into the art work you submit. (If your art work is a jpeg, tiff or created using cmyk we "are not responsible for how the colors will imprint").
Contact Information:
Email info@eventflags.com
Phone: 355-0506
Phone: 1-800-842-1131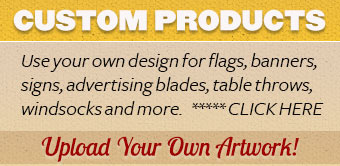 Featured Products