About Us
Eventflags.com is owned by the Flag Store of Nevada, Inc./Flag Store, Sign & Banner. Our company has been manufacturing quality flags, flagpoles, signs and banners since 1986. Our company started in a 300 Sq. Ft. office space with nothing but hopes and dreams. We now occupy over 7,500 and are one of the largest manufacturers and distributors of flags and flagpoles on the West Coast. We never lose sight that, it is our customers that we have to thank for our continued success.
Corporate Officers: President Eric M. Smith, Vice-President Valorie J. Smith, Vice President and Board of Director, Martin T. Smith
Our Goal: To supply and manufacture the best made products, on time, at a reasonable price.
Giving Back: The Flag Store is well known for its' commitment to Veterans Organizations and other civic groups and non-profits. The Flag Store prides itself in the promotion of American made and Nevada made businesses and products. Learn more about The Flag Store, Sign & Banner on face Book at www.facebook.com/theflagstore
What we can do for you :
Quality manufacturer of flags, banners, signs, flagpoles and related products, such as windsocks, wind spinners, ad blades and hundreds of more products.
We specialize in business promotion, rodeo, fairs and special events of all-kinds
Prompt shipping. We carry in-stock almost a million dollars of inventory
Because of our partnerships with our sister manufactures, we can ship, not only from our Nevada location, but from Oklahoma, Minnesota, West Virginia and Texas
Custom production done in-house by, dye sublimation process, digital process and vinyl graphics
Provide finishing of products to accommodate any installation or application
Visa, MasterCard, Discover, American Express and Pay Pal accepted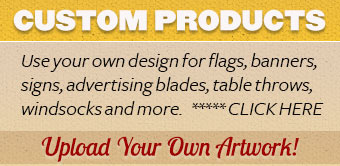 Featured Products