Contact Us
We'd love to hear from you. Please use this form to inquire about pricing, shipping, availability and other concerns that you may have. This will be sent directly to our company email and we will respond within one business day.
You may also call us at the following numbers:
800-842-1131
775-355-0506
Thanks for considering Flag Store Sign & Banner.
Flag Store Sign and Banner
155 Glendale Avenue #9
Sparks, NV. 89431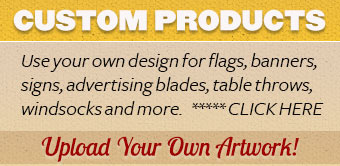 Featured Products