Custom Vehicle Vinyl Graphics

Vinyl Graphics
Adding vehicle vinyl graphics to your vehicle should be a no brainer if you own your business and it will be one of the best business decisions you ever make. Your vehicle becomes a roving billboard for everyone to see. Many business owners quickly pay for their vehicle graphics with the business they receive from the advertising.
The Flag Store, Sign & Banner has been creating and applying vehicle graphics for over 20 years. We only use top quality premium vinyl to apply on your vehicle. Many of our competitors will use less expensive vinyl to cut costs, we don't. You might not be able to see the difference when you pick up your vehicle, but you will in a few years.
Important Notes
It is impossible to give you a quote without seeing the vehicle, discussing what you want and how big you want it on the vehicle; there are just too many variables.
Bottom Line
It's impossible to give a quote over the phone or over the internet. We highly suggest you call to make an appointment with us to discuss what you're looking to have put on your vehicle so we can give you an accurate quotation.
Contact Information:
Email address: info@eventflags.com
Phone ( local ): 775-355-0506
Phone ( outside NV ): 1-800-842-1131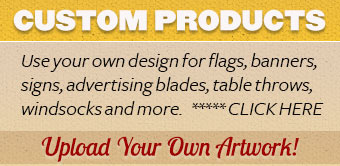 Featured Products