Custom Imprinted Street & Avenue Banners
Detailed Information
Street Banners are a very popular for advertising, messaging or branding. Our staff can help you design the perfect Custom Street Banner at lower the cost most companies sell their stock banners for.
Street Banner Material Options
15oz. Tuff Weave Vinyl, Knitted Polyester, and Nylon.
The longest lasting material is Tuff Weave Vinyl and it's also the most economical.
Most of our Street Banners are manufactured using 15oz. outdoor Tuff Weave vinyl. But, we don't use just one piece of material, we actually make two banners and sew them together for extra strength. We finish the banners with sewn pole sleeves. Many companies weld the pole sleeve to save time and money, the sewn method is much more durable. We also drop in grommets on the sides of the banners so you can run a zip tie through it and around the bracket or pole; this helps prevent the banners from blowing off the poles.
Hardware
Our "Windbreaker street banner brackets and poles are engineered to withstand sustained 70 mph winds!" No one makes better mounting hardware than we do.
Where are your street banners made?
Our street banners are proudly made in America by us.
Will I receive a proof?
Yes, once you have placed your order with us and we have received any needed art work from you, we will send you a proof for your approval, before we start production.
Artwork
If you have logos or graphics that you want to be imprinted on your Street Banners, we need "Vector manipulative" art work designed in Adobe Illustrator. We can sometimes use very high resolution jpegs or tiffs, but we cannot use low resolution or small graphic files.
Submitting Artwork
You can send your art to us via email by CLICKING HERE.
Imprint Colors
We can imprint any Pantone/PMS color, but you must either submit instruction of the Pantone/PMS colors or have the Pantone/PMS colors embedded into the art work you submit. (If your art work is a jpeg, tiff or created using cmyk we "are not responsible for how the colors will imprint").
Contact Information:
Email address: info@eventflags.com
Phone ( local ): 775-355-0506
Phone ( outside NV ): 1-800-842-1131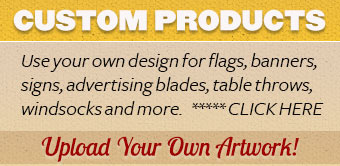 Featured Products