Custom Imprinted Guidon & Regiment Flags
Guidon & Regiment Flags
In today's times, most flags are digitally printed. Digital printing allows for very good detail of the graphics on the flag. Although not used much anymore, we can also quote to have the flags made by applique, meaning the design is sewn on. Applique is getting to be a thing of the past for several reasons; it's expensive and does not allow much detail.
Finishing your Flag
Most flags of this type are finished with sewn pole sleeve and sewn in tabs. Other finishes are, canvas header and two brass grommets and if the flag is for framing most of the time we just hem the flag. Fringing the flag is also very popular.
Material Options
Knitted polyester and Nylon
Where are your flags made?
Our custom flags are proudly made in America by us.
Will I receive a proof?
Yes, once you have placed your order with us and we have received any needed art work from you, we will send you a proof for your approval, before we start production.
Single / Reverse Outdoor Flag Construction
Outdoor flag construction is SINGLE/REVERSE, meaning flags read correct on one side and bleed through mirror image on the other side of the flag. This is what we highly recommend for outdoor flags.
Double Sided Outdoor Flag Construction
To make the flag double sided we must make two flags and sew them together with a Tyvec liner in the middle. The only flags that should be double sided are parade, rodeo, military colors and guidon and regiment flags and some indoor applications.
Artwork
If you have logos or graphics that you want to be imprinted on your flag, we need "Vector manipulative" art work designed in Adobe Illustrator. We can sometimes use very high resolution jpegs or tiffs, but we cannot use low resolution or small graphic files.
Submitting Artwork
You can send your art to us via email by CLICKING HERE.
Imprint Colors
We can imprint any Pantone/PMS color, but you must either submit instruction of the Pantone/PMS colors or have the Pantone/PMS colors embedded into the art work you submit. (If your art work is a jpeg, tiff or created using cmyk we "are not responsible for how the colors will imprint").
Contact Information:
Email address: info@eventflags.com
Phone ( local ): 775-355-0506
Phone ( outside NV ): 1-800-842-1131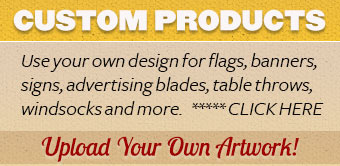 Featured Products