Las Vegas Flags - Banners - Signs - Store
Las Vegas Flag Store?
Well we are in the state of Nevada, just up North! Over our many years in business we have developed strong relationships with many customers from Clark County in Las Vegas. We also serve Henderson, Elko, Pahrump, Carson City and other outlying Nevada cities even though our main distribution location is in Sparks.
We are one of the largest manufacturers and distributors of flags, flagpoles, signs, banners, windsocks, advertising blades, military items and mailbox covers in the Western United States. Being in-state means that if you order from Las Vegas, you have the benefit of extremely fast turnaround times on orders. In stock items ship out within 24 hours ( excluding Sunday ) and ordered items are also expedited due to our proximity to Las Vegas. We carry more items, especially 'Made in the U.S.A.' products, than any other store in the state by a large margin. Our long established relationships with many other businesses in Nevada is a testament to our commitment to put our Nevada customers at the front of the line. The Flag Store is definitely the first place you should look for any flag or flag pole. If we don't have it in stock, we can get it!
Henderson, Elko, Pahrump, Carson City and other cities
The same goes for other, more rural towns in the state. Quick turnaround, a toll-free or in state phone number and always a quick answer if you need to call for any reason about your order.
---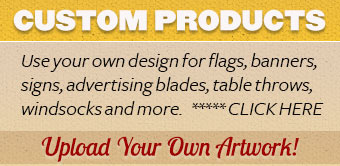 Featured Products
Information